Chilkoot Trail Hike and Float Tour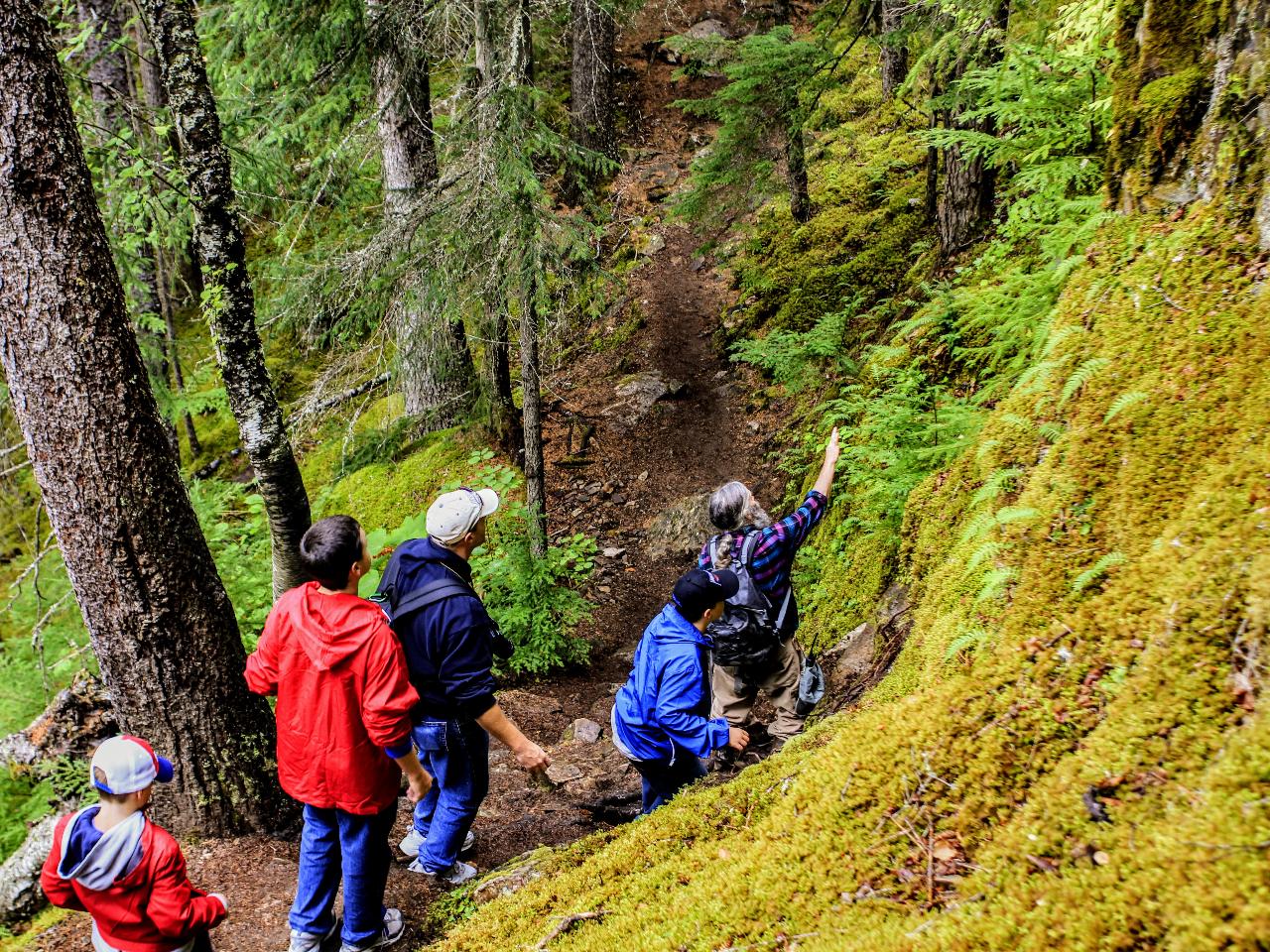 Duration: 4 Hours (approx.)
Product code: P1JIDO
Begin in Skagway as we drive, by van, 10 scenic coastal miles to the head of the famous Chilkoot Trail in Dyea valley, which was a Gold Rush town, now returned to nature and part of the Klondike Gold Rush National Historical Park. Along the drive, watch for Bald Eagles and seals. Your knowledgeable guide will share with you fascinating Gold Rush and natural history of the area as you drive to Dyea and throughout the tour.
On the 2-mile hike, retrace the steps of the Gold Rush stampeeders through a green moss-covered northern temperate rainforest. Learn about native plants along the trail and the struggles of those who hiked before you. You will have time for taking photos as well.
At the end of the one-way hike we meet with the raft and suit up with lifejackets and rubber boots for a relaxing river float on the tranquil Taiya River. As you float down the gentle river, your guide will point out potential wildlife (Bald Eagles are common, bears are possible-usually late summer-though wildlife sightings are not guaranteed) while you enjoy the gorgeous river and mountain views. The river is a peaceful place to reflect on the natural beauty of Alaska. Enjoy a small riverside snack after the float.
This is an
ACTIVE
tour and the hike is moderate to
strenuous (depending on your fitness) and is on an uneven dirt trail with some
steep portions and hilly terrain (elevation gain 300 feet), with rocks and
roots to navigate around for the first mile. The second mile is mostly flat
ground for the remainder of the hike.
Please be in good physical condition and wear sturdy walking shoes with good traction. If you have knee, ankle, back, balance or other health issues, please consider if you should participate in this tour. We do have an alternate easier walk in place of the Chilkoot trail hike available and you can meet up for the float portion. Please advise us in the Special Requirements section or email skagwayfloat@gmail.com when booking if you may need this service. Our guides will strongly advise you to do this alternate route if they feel your participation in the Chilkoot trail hike to be too strenuous for your ability level.
This tour is 4-4.5 hours including 1 ½-2hours hiking and about 35-45 minutes on the river (depending on water levels). We operate tours in rainy weather so please dress in layers for your comfort and a waterproof rain jacket is suggested.
Suitable for active children 5 and up. Ask about younger participants by emailing skagwayfloat@gmail.com.
Maximum group size is 11. For larger groups we divide out to a second group for the hike and the float portions. The groups will depart at the same time but will not be following too closely along the route in order to comply with our National Park permit regulations. We would also divide into 2 rafts. (The second raft may have additional guests).
If you are ready to book, please submit your reservation request. It will be a pending order until we review your details and confirm it to you. For payment there are 2 options: You can enter your credit card in the booking form to be charged through our booking software payment system called RezdyPay. The card will be charged an initial $5 deposit fee and the remainder of the total will be charged on the day of the tour. Alternatively, you can choose pay by PayPal and the $5 deposit will be charged at booking and we will send you a payment link to complete the rest of the payment in full through PayPal. For the White Pass and Rafting combo tour we will send a link for the payment in full at the time of booking.
If your tour time and date is not available, we will email or call you with alternate times available or to notify you that we are not able to accept your booking request.
If you need to cancel, just give us 24 hours notice (see our policy). If you cancel prior to the 24 hour period, we will refund any amount you have already paid.